What's Cooking In Columbus This Weekend
There's a lot going on in Columbus this weekend! Here's a short list of food, fun, art, and entertainment happening for the weekend of June 12-14.
St. Philip Episcopal Church Fish Fry
Friday, June 12, and Saturday, June 13, 11 am-7 pm
166 Woodland Avenue or free delivery on Friday
St. Philip is putting on its annual Catfish Feast this weekend! The church uses the money they raise for its food pantry. For $10 you get a Catfish dinner consisting of whole fish, cole slaw, green beans, and cornbread. Or for $7 you can get a Whiting fish sandwich with chips. If you hurry, they are offering free delivery on Friday (today) for orders of 4 dinners or more. You can place orders by calling (614) 253-2771.
If you can't make it to the fish fry, Columbus mover E.E. Ward is proud to be hosting a GoKarting event and Meet-and-Greet with Xfinity driver Dakoda Armstrong directly benefiting the food pantry and meal provision efforts of St. Philip Episcopal Church, the YWCA of Columbus, Ohio and the Eldon & Elsie Ward Family YMCA on August 14.
Columbus Arts Festival
Friday, June 12 – Sunday, June 14, Friday & Saturday 11 am-10:30 pm, Sunday 11 am-5 pm
The Riverfront
This is the 54th year the Greater Columbus Arts Council will be putting on its signature art, music, food, and fun-filled event. The festival has been named one of the top fine art festivals in the country. This comes as no surprise since this year it is featuring more than 300 artists, 6 stages with music, spoken word, dance, and theater, hands-on activities, a special gallery for kids, film screenings, live art installations and competitions, and food trucks featuring unique tastes from all over the world along with local favorites. This free event is a great cultural event for the whole family- don't miss out on this Columbus treasure! For more information go to their website.
Columbus Commons Concerts
The Columbus Commons will be featuring two free concerts this weekend: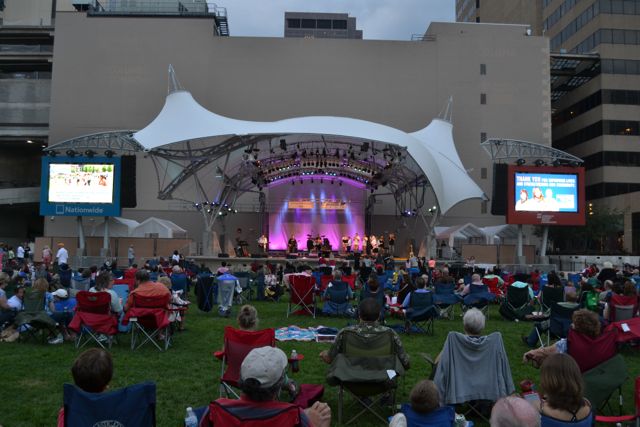 The Navigators
Friday, June 12, 7-10:30 pm
The Navigators is a group comprised of Columbus executives and professionals who specialize in playing high-energy rock music from the 1960s to today. Since their formation in 2003, they have helped to raise more than $200,000 to help local and national charities such as the Salvation Army, Mid-Ohio Food Bank, Hilltop YMCA, the American Red Cross, and more. A selection of local food trucks and bars will open at 6 pm and the concert will start at 7 pm.
Blues Night
Saturday, June 13, 7-10 pm
Columbus Commons is partnering with Sean Carney's Blues for a Cure to offer a great night of blues music featuring the Sean Carney Band and Janiva Magness. Local food trucks and beverages will also be on-site
For more information on these and other Columbus Commons events head over to their website here.